Flash MP3 Player
11/09/06 13:37 Filed in:
News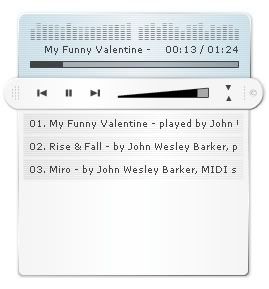 As part of the updating of this website, I've added the Flash MP3 Player to share audio with visitors.

The playlist currently contains:


My Funny Valentine by Richard Rogers
played on a Technics digital piano by John Wesley Barker


Rise & Fall by John Wesley Barker
recorded by Lost Jockey in a session produced by John Leckie at Abbey Road Studio 2.
Previously released by Operation Twilight Cat. No. OPT11


Rainstick by Bag 'O Cats and John Wesley Barker
from the album Out Of The Bag produced for Greentrax Recordings by John Wesley Barker.


Temptation Brothers In Rhythm Remix - by Heaven 17
orchestral arrangement by John Wesley Barker, recorded at Air Studios. From the album The Luxury Gap. Session detail here


Eccho Ring for organ by John Wesley Barker
originally written for the wedding of Clare & John, this solo organ version from the CD Stormin' Norma 2 by Kemp English. Recorded in Dunedin Town Hall, New Zealand. See Eccho Ring web page.