Karlheinz Stockhausen 1928-2007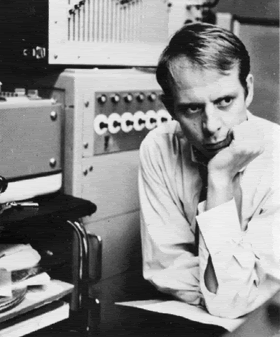 Date: Fri, 07 Dec 2007 17:29:37 +0100
From: Stockhausen-Stiftung
Subject: Stockhausen Farewell / IMPORTANT PRESS RELEASE
PRESS RELEASE
The composer
Karlheinz Stockhausen
passed away on December 5th 2007 at his home in Kuerten-Kettenberg and will be buried in the Waldfriedhof (forest cemetery) in Kuerten.
He composed 362 individually performable works. The works which were composed until 1969 are published by Universal Edition in Vienna, and all works since then are published by the Stockhausen-Verlag. Numerous texts by Stockhausen and about his works have been published by the Stockhausen Foundation for Music.
Suzanne Stephens and Kathinka Pasveer, who have performed many of his works and, together with him, have taken care of the scores, compact discs, books, films, flowers, shrubs, and trees will continue to disseminate his work throughout the world, as prescribed in the statutes of the Stockhausen Foundation for Music, of which they are executive board members.
Stockhausen always said that GOD gave birth to him and calls him home.
****
Šfor love is stronger than death.
IN FRIENDSHIP and gratitude for everything that he has given to us personally and to humanity through his love and his music, we bid FAREWELL to Karlheinz Stockhausen, who lived to bring celestial music to humans, and human music to the celestial beings, so that Man may listen to GOD and GOD may hear His children.
On December 5th he ascended with JOY through HEAVEN'S DOOR, in order to continue to compose in PARADISE with COSMIC PULSES in eternal
HARMONY, as he had always hoped to do: You, who summon me to Heaven, Eva, Mikael and Maria, let me eternally compose music for Heaven's Father-Mother, GOD creator of Cosmic Music.
May Saint Michael, together with Heaven's musicians in ANGEL PROCESSIONS and INVISIBLE CHOIRS welcome him with a fitting musical GREETING.
On behalf of him and following his example, we will endeavor to continue to protect the music.
Suzanne Stephens and Kathinka Pasveer in the name of the world-wide family of musicians who love him, together with everyone who loves his music.
****
On Thursday, December 13th 2007, from 10 a.m. to 1 p.m. it will be possible to personally say farewell to Karlheinz Stockhausen in the chapel of the Waldfriedhof in Kuerten (Kastanienstrasse).
A commemorative concert will take place soon at the Sülztalhalle in Kuerten. Programme, time and date will be specially announced.
Memorial Booklet